Why Source Fabrics From India?
If you are wondering why sourcing fabrics from India is a good decision, scroll down to explore the history, benefits, and diversity of textiles and fabrics in India. 
India is one of the largest producers and exporters of textiles in the world. Many fabric sourcing agents from India could run you through the diverse and advantageous textile market. As per Connect2India, fabric export transacts between India and USA, UK, UAE, etc. The Indian textile market can be segmented into 
Organized Sector- This sector mostly uses extensive technology for mass production. 
Unorganized Sector- The unorganized sector uses the traditional methodology. It promotes handloom to make fabrics by artisans. 
Before we explore the advantages of sourcing textiles from India, it is essential to know about the history and kinds of fabrics available here. You can check out tradeuno.com to know in detail about the fabric types made in the Indian subcontinent. 
History and Diversity of Textile in India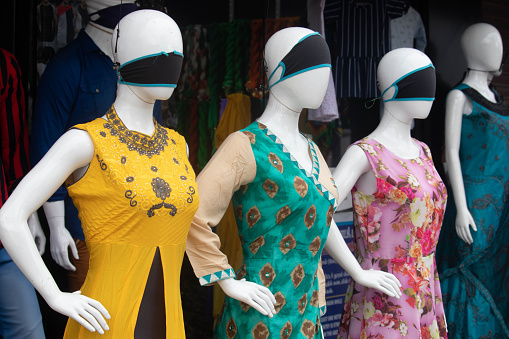 A vivid description of textiles can be traced from the Vedic Period in India. This period mentions a lot about weavers' embroidery and fabrics representing their status in society. Textile trade flourished during the Ancient Period. The Gupta Empire systemized the textile sector even more by promoting guilds of weavers and expanding trade across oceans. 
The medieval period encouraged the trade of Indian cotton, silk, and muslin keeping Surat, Bengal, and Masulipatnam as centers. The British Era captivated cotton production and sent printed cotton to England. Later in 1851, a Parsi Merchant established Bombay Spinning and Weaving Mill giving industrial textile production a push in India. 
Today in the Contemporary Period, the textile markets have segments of handmade and machine-made fabrics. Handmade fabrics are woven on handlooms by weavers, whereas machine-made fabrics are products of industrialized India.   
Textile Diversity in India
Let's understand the diversity of textiles as per region. 
The fabric sourcing agents from India generally speak about fabrics belonging to different regions. 
The northern region is known for wool, coarse cotton, Phulkari, Brocade on silk, and Benarasi silk weave. 
Bihar in the East Region is well known for linen, silk, and Madhubani art. A famous weave on sarees of Bengal is Baluchari. It is a work that weaves beautiful motifs. The Jharkhand and Assam region is known to weave soft cotton in bright colors. 
Rajasthan is known for Kota Doria. It is a fabric woven from cotton and silk threads. 
Gujrat flaunts Patola and the famous Ikat print. Maharashtra is well known for its Paithani silk.
This region has a range of woven and industrial fabrics like silk, cotton, Organic cotton, and some beautiful hand-spun Kanjivaram sarees. 
Why Source Fabrics from India?
After knowing the history and diversity of textiles in India, sourcing textiles from India might seem like a great choice. 
Find below other reasons to refer to India as one of the most crucial and inevitable textile hubs worldwide.
1.  Easy Availability 
India is a reservoir of raw materials and textiles of natural and synthetic fibers. It is accounted for abundance production in cotton, polyester, and viscose. 
2.  Self-Reliant Value Chain 
India is amongst the very few Asian countries to have a complete value chain, independent of support from other countries. 
It has a self-production of thread, yarn, and textile. It also has skilled artisans for printing and embroidery, and a well-defined industrial setup for mass and bulk production. 
3.  Infrastructure 
Owing to its vast history in textile and its development, India has a good setup and available infrastructure for both traditional and industrial production. From SEZ zones defined by the government to clusters of handloom weavers, India is well developed in textile sourcing and production. 
4.  Globally Connected 
Gratitude to digitize India, it is a well-connected country with the global market. The Human Resources are equipped to speak global languages making it easy to communicate while doing business.
5.  Existing Industrial and Organized Players 
The textile market of India is well tapped by the Organized industries too. With digital India, players like TradeUno are making it even easier to explore the variety and latest collection of fabrics- industrial, traditional and sustainable. 
As India ranks 5th in textile exports worldwide, the government provides full support, encouraging textile trade. It initiates and provides SEZ Zones, subsidies, schemes, infrastructure, and trade agreements with other countries. This makes India a flourishing and favorable market globally.
Conclusion 
India has been and is still one of the biggest fabric and textile hubs in the world. Sourcing textile from India has many benefits. The variety, self-reliant supply chain, available infrastructure and logistics, developed industries, and digitization is churning more and more from the textile sector in India. If you wish to know more about the latest fabrics and variety that you can source from the Indian market, then check out Tradeuno, the pioneers of curated fabrics in India.